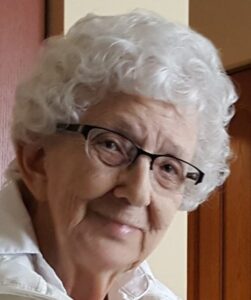 Ardis Mae (Vestlie) Stammen, 89, has born to Eternal Life July 27, 2020, where she was greeted by Christ, her loving husband, Earl, and son, Jeffrey Stammen. Ardis was surrounded with her family at the time of her rebirth after a long battle with Dementia.
Ardis was an only child born to Alfred and Mina (Onsrud) Vestlie on May 24, 1931, in Stoughton, WI. She married her beloved husband, Earl Stammen on October 4, 1947. They made their home in the Madison area until 1972 when they moved to Grand Marsh, WI, and purchased Patrick's Lake Supper Club. Ardis retired from the restaurant business after 25 years.
Ardis enjoyed stock car racing, hunting geese in Canada, bowling, her pets, camping, crafts, but most of all her children. Ardis and Earl were married for 59 years. In that time they had 6 children and these children have extended the family by 12 grandchildren, 19 great-grandchildren, and 5 great-great-grandchildren. As if this did not keep her busy enough, Ardis and Earl were Foster Parents. They cared for over 85 children in their years together, with one, Ethel Williams, making this her most loved family.
Ardis is preceded in death by her parents, Alfred and Mina Vestlie, husband, Earl Stammen, son, Jeffrey Stammen, and Robert Williams, son-in-law.
Ardis is survived Ethel Williams, (foster) daughter of Richland Center, WI. Randy (JoAnn) Stammen of Cable, WI. Michael Stammen of Oxford, WI. Gary (Sharon) Stammen of Oxford, WI. Todd (Cindy Babcock) Stammen of Friendship, WI. Darcie (Todd Domke) Stammen of Hancock, WI
Services for family will be held on August 6, 2020, at St. Joseph's Catholic Church, Friendship, WI. Visitation will begin at 10:00 with full Catholic Burial Mass at 11:00. Ardis will be laid to rest with her husband and son at Forest Hill Cemetery and Mausoleum in Madison, immediately following the service. Roseberry's Funeral Home is assisting the family.
In lieu of flowers, memorials may be made to Harris Villa Assisted Living in Westfield, Wisconsin, or Agnesian Hospice Healthcare in Green Lake with grateful appreciation for their kindness and support through this time.