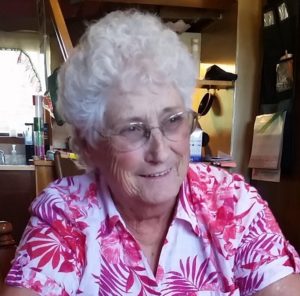 Arlene Schemmel, age 76, of Arkdale Wisconsin passed away March 8th, 2019. Arlene was born April 3rd,1943 in Monroe County Wisconsin to John and Irene (Degler) Chase. Arlene married William Schemmel April 29th1957, in Racine, Wisconsin. Arlene enjoyed spending her time outdoors, working in her gardens, watching the birds, sitting on the front porch with her husband, baking and spending time with her family and friends.
The family invites you to join a Celebration of Life gathering on August 17th, 2019 at the Village of Friendship Town Hall-507 W Lake St, Friendship, WI 53934, from noon until 4:00 p.m.
Preceded in death by:
Parents: Irene and John Chase
Brothers: John (Sonny) Chase, Roger Chase, Richard Chase.
Aunts, uncles, cousins, and other relatives.
Survivors
Husband: William-Skip- Schemmel, Arkdale, WI
Daughter: Bonnie (Bill) Bindel, Racine, WI
Son: William (Deborah) Schemmel, Racine, WI
Son: James (Linda) Schemmel, Burlington, WI
Daughter: Debra (Ronald) Beeman, Adams, WI
Grandchildren: Bryan (Katherine) Bindel of Big Bend WI, Nicholaus (Amanda) Schemmel of Aurora CO, Jacob Beeman of Pinckneyville IL, Jennifer Beeman of Adams WI, Courtney (Andrew) Fritchen of South Wayne WI, Alexander (Amanda) Schemmel of Green Bay WI, Eric (Alexandria Lueck) Schemmel of Burlington WI.
10 Great-grandchildren.
Nieces, nephews, other relatives, and friends.
Please, no monetary gifts.