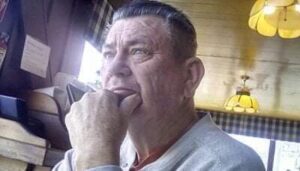 Arthur "Butch" Kavall, age 66, formerly of Las Vegas, NV, passed away Sunday, October 3, 2021, at home in Portage, WI.
A Celebration of Life will be held in June, 2022.
Butch was born November 11, 1954, in Melrose, Massachusetts to John and Virginia (Erikson) Kavall. Butch graduated from Moon Valley High School in Phoenix, AZ in 1973.
He married Catherine I. Schoen on May 31, 1986, in Las Vegas, NV.
Butch had been retired for many years. While in Wisconsin he worked for a local transport company in Reedsburg. He worked for Albertsons Grocery Liquor Warehouse, Bonanza Beverage, and Costello Beverage Company as a local delivery driver. He also worked for UPS. For a number of years, he also had a landscaping business.
He loved spending time with his family, especially his grandchildren. Butch Loved the Packers. Even not being from Wisconsin, they were his team. His Daughter Heather was a Bears fan and they would always argue about which team was the better team. Heather's final words when she left to go home were always "The Packers S*ck" or if the Packers won and the Bears didn't, it was that they still s*cked. He also enjoyed watching the Badger Football team. He and his wife attended many of the NASCAR races in Las Vegas. On most weekends he was in front of the tv watching the games and or the races.
Butch was a member of Las Vegas Teamsters Local 631 for many years.
Butch was preceded in death by his parents and sister Gayle.
Survivors include his wife of 35 years, Catherine (Cathy). His daughters Kaitlin (Travis) Schnoor, WI, Heather (Regan) Fullmer, NV, Rebecca (Jason) Eagar, NV, Jessica (Jonathan) McCully, NY, and Myndi (Dan) McGreggor, FL. Sisters, Barbara Kavall, Diane (Joe) Burklow and Karyn (Darius) Klinefelter and Brother, John Kavall. 14 Grandchildren, many Nieces & Nephews. And many, many friends. Both in Las Vegas and in Wisconsin.