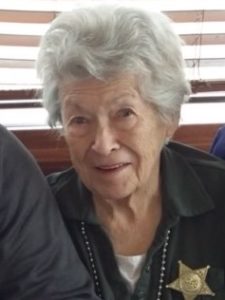 Beatrice E. "Bette" Mowry, age 93, of Friendship, Wisconsin passed away Monday, September 2, 2019, at her home.
A celebration of her life will be Wednesday, September 18 at 11:00 am at the Faith Baptist Church in Adams, Wisconsin.   Rev. Richard Eberly will officiate.  A celebration of life will also be held in Madison, Wisconsin at Door Creek Church, 6602 Dominion Dr., on Monday, September 16 at 6:00 pm.
Bette was born February 22, 1926, in Chicago, Illinois to Leroy and Mable (Gorsline) Jones. Bette's maternal grandparents raised her and her brother, Harold, from a young age following her mother's untimely death. She graduated from Montello High School in 1944.
Bette was married to Raymond Showers, Carroll Woody, and Russell Mowry.
Bette enjoyed spending time with her family, music especially her son-in-law's band, and playing card games and board games with family and friends.
She was a member of Faith Baptist Church in Adams.
Bette was preceded in death by her parents, Leroy & Mable Jones; husbands, Raymond Showers, Carroll Woody, and Russell Mowry; brother Harold Jones, and grandson, Jason Schultz McCredie.
Survivors:
Son:  Edward (Ingrid) Showers of Oregon, Wisconsin
Daughter:  Linda Olson of Friendship, Wisconsin
Daughter:  Sandra (William) Anderson of Hartland, Wisconsin
Son:  Richard (Lisa) Showers of Mc Farland, Wisconsin
Daughter:  Barbara (Jeff) McCredie of Anaheim, California
Son:  Robert (Susan) Showers of Cottage Grove, Wisconsin
Grandchildren:  Nicole (Bill), Kory, Danielle (Anson), Tammy, Shane, Jessica (Brian), Rebecca, Tracy, Brent (Jeannie), BJ (Nicole), Lance, Joseph, Anna (Nate), and Matthew
Half-Brother:  Jerry (Norma) Jones
Half-Brother:  Dale Jones
Half-Sister:  Nancy Martelle
Further survived by many great-grandchildren
Bette will be deeply missed by many.
In lieu of flowers donations can be made to either of the following non-profit organizations:
Shriners Hospital for Children, 3160 Geneva St, Los Angeles, CA 90020
Autism Society of Wisconsin, 3720 N 124th St, Wauwatosa, WI 53222