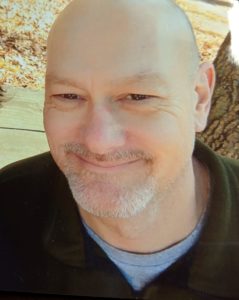 Bradley R. Kennedy, age 54, of Friendship, formerly of Beloit, Wisconsin passed away unexpectedly Sunday, September 29, 2019, at his home.
A celebration of his life will be at 12:00 Noon on Monday, October 7, 2019, at Roseberry's Funeral Home in Friendship. Visitation will begin at 11:00 a.m.
Bradley was born December 17, 1964, in Beloit, Wisconsin to Gerald and Sharon (Mueller) Kennedy. He married Marcia Schmeling on October 19, 1984. They had one son Kalen; he was born on December 18, 1984.
Bradley later married Carrie A. Blair on June 5, 2010, in Adams County, Wisconsin.
He loved spending time with his grandchildren, playing the guitar, music and taking care of his pets. He enjoyed outdoor activities, working on outboard motors, and was an avid Packer fan.   Bradley was a member of the Old Antique Outboard Motors Club.
He was preceded in death by his parents, Gerald & Sharon Kennedy.
Survivors:
Wife:  Carrie Kennedy
Son:  Kalen (Shelby) Kennedy
Grandchildren:  Zane, Alivia, & Kade Kennedy
Sister:  Debra Sutton
Brother:  Matthew Kennedy
Brother:  Christopher Kennedy
Nephews:  Mitchell & Jack Sutton and Camden Blair
Nieces:  Emily, Hannah, & Sydney Kennedy
Mother-in-law:  Cindy Jernigan
Father-in-law:  Jim Blair
Brother-in-law:  Thomas Blair
Brother-in-law:  Jonathan (Amanda) Blair