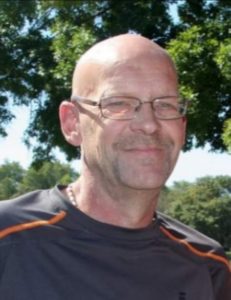 Bryan Kealy Smith, age 59, of Grand Marsh, Wisconsin passed away unexpectedly Sunday, October 6, 2019, at his home. He was a husband, father, son, brother, and friend to so many and left this world too soon. Bryan was born January 31, 1960, in Monroe, Wisconsin to James and Dianne (Weber) Smith. He graduated from Baraboo High School in 1978. Shortly after graduation, he married the love of his life Lori A. Frank on April 11, 1981, in Baraboo, Wisconsin. He was gifted with the best sense of humor, always making people laugh with his quick-witted jokes. His boisterous laugh was infectious. Bryan had a passion for music, whether he was listening to it or playing in a band. He had a good heart and everything he did was for his family. He loved camping, fishing, canoeing, grilling and spending quality time outdoors with his family. He was a lifelong Badgers and Packers fan. Bryan worked for Globalcom Communications, Union IBEW Local 159 and was very dedicated to his work, most days commuting an hour each way. He was very talented in his skill and always made sure that the job was done to high standards. He was very handy and able to fix things whether on a car, house or anything mechanically related. Bryan was able to find a diamond in the rough and see things that would speak to him and that others may overlook. He will be missed dearly by many, especially his wife in which they were inseparable, his children that looked to him every step of their lives and his Grandchildren that were everything to him.
Bryan was preceded in death by his father, James Smith, and father-in-law, Ervin Frank.
Survivors:
Wife:  Lori Smith
Mother:  Dianne Smith
Daughter:  Falon (Nic) Huebing
Son:  Derek Kealy Smith
Grandchildren:  Jadyn & Gage Huebing
Sister:  Gail (Pat) Brooks
Sister:  Denise Smith
Brother:  Brett (Leora) Smith
Mother-in-law:  Judith Frank
Funeral services will be 12:00 Noon on Saturday, October 12, 2019, at Roseberry's Funeral Home in Friendship, Wisconsin.   Rev. John K. Stake will officiate. Visitation will be 11:00 a.m. until the time of service on Saturday at Roseberry's Funeral Home.
The family is asking for monetary donations in lieu of flowers.