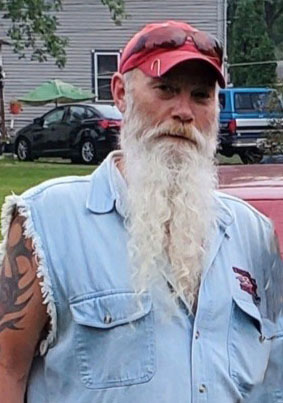 Daniel L. Snyder, age 55, of Adams, Wisconsin passed away Sunday, May 1, 2022, at his home.
Funeral services will be 12:30 p.m. on Saturday, May 14, 2022, at Roseberry's Funeral Home in Friendship, Wisconsin. Pastor Sam Downey will officiate.  Visitation will be 10:30 a.m. until the time of service on Saturday.
Daniel was born June 20, 1966, in Cudahy, Wisconsin to Jaceton and Dorothy (Lawrence) Snyder.
His family lived in Waterford before moving to Burlington, WI.  He attended Burlington High School and then worked for the Railroad. He later moved to Adams County. Dan worked third shift at Brakebush in the sanitation department for 14 years until June of 2021 before he was diagnosed with cancer.
Dan was an avid sportsman and absolutely loved fishing.  He enjoyed refurbishing lures, hunting, collecting coins, and baseball & football cards, and drawing & doodling. He was great at playing drums and played since he was a kid self-teaching himself. Dan had a really great sense of humor.  He especially loved spending time with his daughter, grandchildren, family & friends, and riding his Harley, often riding with his good friends Phil & Rob. One of his favorite memories was riding the Harley's out West to Yellowstone and the mountains with his dad.
Dan was preceded in death by his father: Jaceton Snyder, mother: Dorothy King, stepdad: Bill "Poppy" King, great-nephew: Miles Gerth, and dog Milo.
Survivors include his daughter: Brittny Zabler (Derek), 4 grandchildren: Ivy, Izik, April & Jesse, brother: Roger (Jamie) Snyder, sister: Brenda (Dave) Fraley, nephews & nieces: Noah (Amanda) Snyder, Ariel (Mike) Beutner, Justin (Sarah) Gerth, Kevin (Kayla) Gerth, Taylor Gerth, and many other cherished relatives.  Dan sincerely valued the friendships he had with his true friends.
In lieu of flowers, memorials to his family to help with funeral costs would be greatly appreciated.
Dan's family would like to thank all that took the time to take care of him during his illness.