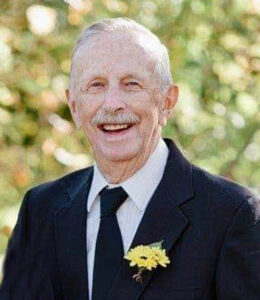 Darrell D. Kurth, age 88, of Grand Marsh, Wisconsin passed away Sunday, September 26, 2021, at Gundersen Moundview Memorial Hospital & Clinics in Friendship, Wisconsin.
Private family funeral services will be 1:00 p.m. on Monday, October 4, 2021, at Roseberry's Funeral Home in Friendship.   Pastor Sam Downey will officiate.  Interment will be at the Easton Cemetery. The public is invited to Roseberry's Funeral Home on Monday, October 4, 2021, for a walk-through visitation from 10:00 a.m. until the time of service.  Masks are required for the walk-through visitation.
Darrell was born May 7, 1933, in Easton, Wisconsin to Clarence and Belva (Morgan) Kurth. He graduated from Adams-Friendship High School and served in the United States Army during the Korean Conflict.
Darrell married Jeanette E. Needham on August 17, 1957, in Wisconsin Dells.
Prior to his retirement Darrell worked for the Wisconsin Department of Natural Resources, as both a heavy equipment mechanic and a forest fire suppression technician. He retired from the state after 34 years of dedicated public service.
Darrell enjoyed being outdoors, hunting, fishing & snowmobiling and especially loved being with his grandchildren & great-grandchildren. He was a charter member of the Easton Sno-Seekers Snowmobile club, treasurer of the Adams County Snowmobile Association, and a member of the American Legion.
Darrell was preceded in death by his wife, Jeannette; parents, Clarence & Belva; sister, Lorna Heitman; brothers-in-law Kenny Byers, Earl Werner & Jim Wiese; sisters-in-law, Shirley Wiese & Iris Werner, and son-in-law Christopher Tully.
Survivors include his daughters Nancy (Dan) Miller, Janet (Mark) Nolden, Stacy (Scott Mossberg) Tully, son Darin (Chari Dayton) Kurth, grandchildren Amber (Noah) Walker, Caitlin (Lucas) Killick, Tyler (Lee) Kurth, Kyle (Emily) Gotch, Jonathon (Michaela) Maas, Tanya Maas, Danielle (Adam) Boese, Cordell (Paige) Maas, Aaron (Hannah Landon) Tully, James (Brittney) Schrader, Jasmine (Mike Oertel) Schrader, Celina Kurth, Mason (Codie Olsen) Miller, Colden Dayton-Kurth, Coyl Dayton-Kurth; great-grandchildren Hunter, Brandi, AJ, Oliver, Hailey, Carter, Lucie, Jacob, Waylon, Amara & Scarlett; great-great grandson Greyson; sisters Eleanor (Jack) Riddle, Lana Byers, and brother-in-law Robert Heitman.