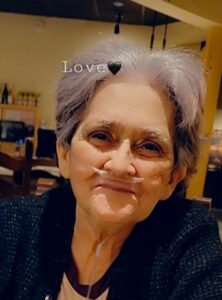 Debra A. Holsten, age 62, of Necedah, Wisconsin passed away Tuesday, May 18, 2021, at her home.
A celebration of life will be held at the Friendship Park on May 29, 2021, at 1:00 p.m.
Debra was born on August 24, 1958, in Milwaukee, Wisconsin to Joseph and Myrtle (Riner) Meyer. She attended school in Milwaukee and later married Earl V. Holsten Sr. on March 4, 1977.
Debra enjoyed playing Bingo, scratching lotto tickets, and especially spending time with her family.  She loved her family very much and always wanted everyone together.
Debra was preceded in death by her loving husband, Earl V. Holsten Sr.; beautiful daughter, Muffin; parents, Joseph Sr. & Myrtle Meyer; loving brothers, James, Joseph Jr. & Herbert Meyer; brother-in-law, Primo Clementi Sr., and sweet niece, Nickki Meyer.
Survivors include her children, Earl Jr., Jason Sr. (Heather), Todd, Betty (Anthony); grandchildren, Brittany (Drake aka Teddy Bear), Earl III, Blake, Trentiin (Aryiel), Jemini, Raelynn, Liam Riot, Zac, Lexy, Kiana, Hailee, Vanessa, Jason Jr., Pearl, Todd Jr., Acacia, Lincoln, Trevor, Carter, Aliyiah, Jacaup, Tyler, Lexy, Veanna; great-grandchildren, Ma'Leeah, Ailani, Amelia; siblings, Lorraine Clementi, Charmain (Jerry) Higgins, Mary Meyer, Anthony (Tracy) Meyer Sr., and Sammy (Suzie) Meyer.  She is further survived by many nieces, nephews, other special family members & friends.