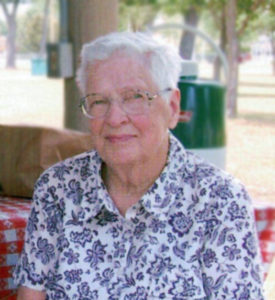 Delma Oretta Wood, age 94, was born June 7, 1924, in White Creek, Wisconsin to Frank and Carrie (DeVoe) Byers. She passed away peacefully on February 14, 2019, at St. Clare Meadows Care Center, Baraboo.
After graduating from Wis. Dells High School, Delma worked in Milwaukee making raincoats for the Army until World War 2 ended.  When her mother died, she returned home to help her Dad with the farm.  On May 4, 1946, she married Ned Wood Sr. and moved to their farm in the Town of Springville, where she lived for over 68 years.
She enjoyed her family, son Ned Jr. and daughter Catherine.  She helped Ned with the farm in any way she could.  She kept the farm going while Ned worked off the farm.  She milked cows, drove tractor, fed the pigs, and took care of the beef cattle.  In later years, they became snowbirds and traveled with the camper to Texas.  She enjoyed gardening, feeding the birds, crafting, reading, walking their dogs, and doing puzzles. She loved spending time with their grandchildren and great-grandchildren.
Delma was preceded in death by her husband on April 12, 2012, parents, brothers (Harold, Harry (Edna), Howard), sisters (Addie (Lloyd) Powell, Agnus (Herbert) Holden, Pearl (Robert) Peterson, and Della (Donald) Weaver), brothers and sisters-in-law (Clinton (Dorothy), Ronald (Margaret), Fred (Anne), Vadah, and Harriet), son-in-law William Grabarski, great-granddaughter Emily Lyons, nieces, and nephews.
Delma is survived by her son Ned Wood, Jr (Donna) of Wis. Dells, and daughter Catherine Grabarski of Grand Marsh, brother-in-law Robert Wood of Grand Marsh, Glen (Shirley) Wood of Wis. Dells, nieces, nephews and five grandchildren.
They include Michael (Dawn) Wood of Beaver Dam, Marcy (Curt) Jackson of Wis. Dells, Rebecca Grabarski of Grand Marsh, Richard (Meagan) Grabarski of Grand Marsh, Ronald (Sara) Grabarski of Grand Marsh.
Great grandchildren include Alexa Wood, Michela Wood, Kelly Wood, John Wood from Madison, Chase and Trinity Theiss from Wis. Dells, Sarah and Emmet Lyons from Beaver Dam and Raulin Grabarski from Grand Marsh.
A special thanks to the St. Clare Meadows Care Center, for the kindness and care they gave to Delma, whom they described many times as a "sweetheart."
Visitation will be at Roseberry's Funeral Home on Friday from 9:30 am until the time of service. The funeral will be at 10:30 a.m. on March 15th, 2019 at Roseberry's Funeral Home in Friendship, Wisconsin. Pastor Janet Ruark will officiate.