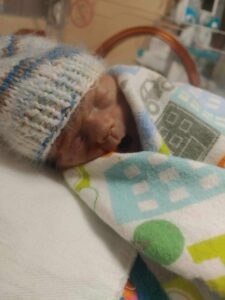 Emmett William Stratton (May 12, 2023 – May 17, 2023)
Emmett William Stratton, a beautiful baby boy who brought immeasurable joy during his short time with us, passed away on Wednesday, May 17, 2023, at Meriter Hospital in Madison, Wisconsin. Although his time on Earth was brief, his impact will forever be cherished.
Emmett entered this world on May 12, 2023, in Madison, Wisconsin, a precious gift to his loving parents, Brett and Ashley (Looman) Stratton. His arrival filled their hearts with unconditional love.
Private family services will be held to honor and remember Emmett.
Emmett was preceded in death by his great-grandparents: Richard and Ruth Ostrander, Gary and Mary Looman, and Eugene Stratton Sr., as well as his grandmother, Janette Beeman.
Left to cherish the memory of Emmett are his devoted parents, Brett and Ashley; his loving brothers, Blake, Jaxson, and Logan; his caring grandparents, Eugene Stratton, Dawn and Shawn Looman; his great-grandparents, Coreen Stratton, and Ron and Mary Lou Beeman; his aunts, Sierra Kemp and Christina Ostrander; and his uncles, Chase Stratton and Dylan Looman. Emmett also leaves behind several cherished cousins.