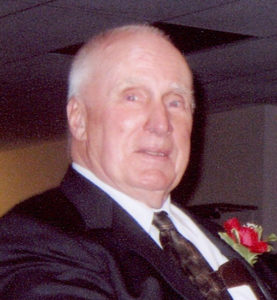 Frederick Edward "Fritz" Schanen, age 86, of Friendship, Wisconsin passed away peacefully Friday, October 14, 2016 at his home surrounded by his family.
Mass of Christian Burial will be 3:00 p.m. on Friday, October 21, 2016 at the St. Joseph Catholic Church in Friendship. Father Valentine will officiate.  Interment with military honors will be at the St. Leo Catholic Cemetery in Friendship. Visitation will be 1:00 p.m. until the time of mass on Friday at St. Joseph Catholic Church.
Fritz was born May 6, 1930 in Port Washington, Wisconsin to William and Julia (Link) Schanen.
Fritz attended Port Washington High School. He then enlisted in the United States Marine Corps. in July of 1948 and was honorably discharged in July of 1952.
He married Clara M. Schmit on September 28, 1957 in Port Washington.
Fritz was a self-employed master plumber for many years and then later retired from the Wisconsin Rapids School District.
Fritz enjoyed camping, fishing, cutting firewood, and spending time with his family and friends.
He was a member of the Saukville Fire Department and the Saukville American Legion
Fritz was preceded in death by his parents, William & Julia Schanen; brothers, Joseph Schanen; James Schanen and Thomas Schanen.
Survivors:
Wife:  Clara Schanen of Friendship, Wisconsin
Son:  Kurt (Louise) Schanen of Mosinee, Wisconsin
Daughter:  Sue (Gary) Pieper of Adell, Wisconsin
Son:  Gregg (Julie) Schanen of Wisconsin Rapids, Wisconsin
Son:  Paul (Shannon) Schanen of Adams, Wisconsin
Grandson:  Nick Schanen of Stevens Point, Wisconsin
Grandson:  Matt Schanen of Wisconsin Rapids, Wisconsin
Granddaughter:  Katie Schanen of Stevens Point, Wisconsin
Grandson:  Gary (Valerie) Pieper Jr. of Fredonia, Wisconsin
Grandson:  John Pieper of Random Lake, Wisconsin
Grandson:  Dan Pieper of Adell, Wisconsin
Granddaughter:  Victoria Pieper of Stevens Point, Wisconsin
Granddaughter:  Amanda (Jason) Reimer of Stevens Point, Wisconsin
Granddaughter:  Lisa (William) Dortch of Campbellsport, Wisconsin
Grandson:  Gregory (Hayley) Schanen of Stevens Point, Wisconsin
Grandson:  Austin Martinez of Adams, Wisconsin
Granddaughter:  Emily Schanen of Adams, Wisconsin
Granddaughter:  Allison Schanen of Adams, Wisconsin
Great-Granddaughter:  Ellie McMahn of Stevens Point, Wisconsin
Great-Grandson:  Nathan Reimer of Stevens Point, Wisconsin
Great-Grandson:  Nolan Reimer of Stevens Point, Wisconsin
Great-Grandson:  Ian Reimer of Stevens Point, Wisconsin
Great-Grandson:  Owen Reimer of Stevens Point, Wisconsin
Great-Granddaughter:  Madalyn Dortch of Campbellsport, Wisconsin
Sister:  Ruth Blecha of Port Washington, Wisconsin
Sister-in-law:  Rosie (Tom) Watry of Cecil, Wisconsin