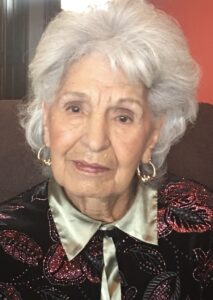 Genevieve G. Kukla, known to many as Jean, passed away peacefully on November 2, 2021, at the Tivoli Nursing Home in Portage, Wisconsin, where she resided for the past three years. She and her husband, Frank Kukla, who preceded her in death on December 5, 1993, moved to Westfield in the early 1960's from Chicago, Illinois where they operated their garage door business called, Central Overhead Door Company. The Kukla's were well known for their acts of kindness and benevolence in their community. They were parents to six children, of whom five were adopted. Later they became one of the first foster homes licensed by Marquette County Human Services, where they provided care and vocational skills to over 25 young juvenile males.
Their interest in helping others continued to grow, and in 1979 after seeing news footage of Laotian people fleeing their country in boats, many who drowned while escaping the brutal retaliation by the North Vietnamese regime, Frank and Genevieve sponsored several Hmong families providing them with a safe refuge as they learned how to live and prepare for citizenship in the United States of America.
Genevieve had a strong dedication to God and to her church.  Her commitment to teaching God's word was demonstrated in her daily life as she attended and supported her church, held weekly prayer meetings in her home, and ministered to incarcerated inmates at the Oxford Federal Prison.
Genevieve is survived by one sister Nina Montemayor, niece Olga Montemayor, and her six children; Geneva Jaeger, husband Ronald Jaeger, Peter Kukla, David Kukla, wife Candy Kukla, Christine Sliwiak, Jill Gonzalez, and Dianne Kukla. Genevieve is also survived by numerous grown foster children, great-grandchildren, and grandchildren.
Funeral services will be held at the New Beginnings Christian Community Church located at W7220 Cty Hwy E in Westfield on Sunday, November 7, 2021, at 2:00. A wake will precede the service at 1:00, with the graveside burial at 3:00.