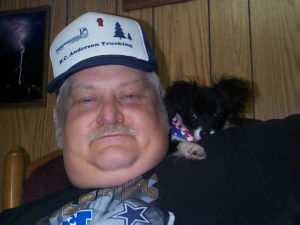 Harold C. Anderson, age 65, of Adams, Wisconsin passed away unexpectedly Monday, March 2, 2020, at University of Wisconsin Hospital.
A visitation will be held at the Adams Assembly of God on Saturday, March 14, 2020, at 11 a.m.; a memorial service at 12 p.m. and a luncheon will follow.
Harold was born December 26, 1954, in Adams, Wisconsin to Alvin C. and Valerie J. (Elliott) Anderson.
He married Wendy J. Smith on March 24, 1973, in Adams.
Some of Harold's earlier careers consisted of working at the Pat's 76 Café, local farms, a cattle ranch, and even in a Chevy garage as a mechanic before he found his true career love in working in the trucking industry. He loved driving semi both locally and over the road and for several years owned his own logging and trucking business as well.
Harold enjoyed working with his hands and sharing his knowledge with others. Some of his favorite past times were tinkering with small engine repair, auto repair, and woodworking. He loved fishing, hunting and being outdoors. Harold also loved cooking, baking, and sewing and was always happy to lend a hand around the house.
Harold was preceded in death by his loving wife Wendy; mother; father; sister, Patricia (Anderson) Weber and brother-in-law, Gene Stone.
Survivors include his daughter, Jennifer (Anderson) & Richard Olson; son Jason Anderson & Kori Watkins; and honorary daughter Wendy Barnett. He was also a loving grandfather to 5 grandchildren and 10 great-grandchildren.
In lieu of flowers, donations would be gratefully appreciated to go towards Harold's funeral expenses due to his unexpected passing as he had no life insurance. Contributions may be made at the Royal Bank in Adams under his name. Thank you.