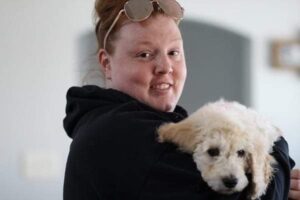 Heather L. Wittig, age 36, of Redgranite, Wisconsin passed away Tuesday, November 9, 2021.
Memorial services will be at 12:00 Noon on Saturday, November 13, 2021, at Roseberry's Funeral Home in Friendship, Wisconsin. Pastor Terri Skildum will officiate. Visitation will be 10:00 a.m. until the time of service on Saturday at Roseberry's Funeral Home. Interment will be at a later date at the White Creek Cemetery next to her parents.
Heather was born May 13, 1985, in Stevens Point, Wisconsin to Darwin and Jacqueline (O'Dell) Wittig. She grew up in Almond, WI where she attended Almond-Bancroft High School. Heather went on to attend Ripon College and graduated with a degree in Criminal Justice and Psychology. She started her career at the Waushara County Sheriff's Department in 2009. Heather moved on to become the Jail Administrator at the Waushara County Jail in 2014. Heather enjoyed her job, traveling, spending time with her family & friends, and celebrating her Irish heritage.
Heather was preceded in death by her parents, "Doc" and "Jackie" Wittig; paternal grandparents, Alfred & Henrietta Wittig; maternal grandparents, Jack & Myra O'Dell, and one aunt, Roberta Wittig.
Survivors include her sister, Tanya (Stephen) Larsen, nieces and nephew, Michela Wierzba, Maddie Wierzba, Angelina Larsen & Marcus Larsen; aunts, uncles & cousins. She is further survived by Jesse Lee; best friends, Kassie Roeder & Nicole Welch, and many other friends.