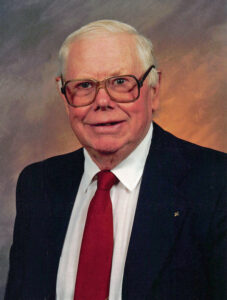 Herbert LeRoy Peterson, age 96, of Big Flats, Wisconsin passed away Thursday, February 23, 2023, at Moundview Memorial Hospital & Clinics in Friendship, Wisconsin.
Memorial services will be 3:00 p.m. on Saturday, March 4, 2023, at the Zion Lutheran Church in Big Flats,
Wisconsin. Pastor Gloria Stubitsch will officiate. Visitation will be 2:00 p.m. until the time of service. Interment will be at the Niebull Cemetery at a later date.
Herbert was born October 2, 1926, in Big Flats, Wisconsin to Chris and Hazel (Madsen) Peterson. He married Dorothy Severson on June 20, 1953, in Nekoosa, Wisconsin. They would have celebrated their 70th wedding anniversary this year. Herbert worked on the family farm, for the papermill, and lastly as a bus driver prior to retiring. Herbert was an avid fisherman & hunter. He especially enjoyed spending time with family & traveling. He was a lifelong member & leader at Zion Lutheran Church.
In lieu of flowers, memorials to Zion Lutheran Church would be appreciated.
Herbert was preceded in death by his parents: Chris & Hazel Peterson and his brothers: Alvin "Al" (Leota) Peterson & Martin "Pete" Peterson.
Survivors include his wife: Dorothy; daughters: Kathy Peterson, Peggy (Roy) Werner, Susan (Tom) Seegert; sons: Thomas (Bev) Peterson & Peter Peterson; grandchildren: Tammy (Nate) Sunderlage, Megan (Adam) Passo, Michele Seegert, Cortney Johnston, Alex Peterson, Tyler Peterson & Latashia Cressy; sister-in-law: Ardis Peterson, several great-grandchildren, and nieces & nephews.
Roseberry's Funeral Home is assisting the family.
Visit www.roseberrys.com for online condolences and further information.