Howard W. Travis, age 87, of Hancock, Wisconsin, peacefully passed away on Wednesday, September 6, 2023, at his home following a short battle with cancer. He was surrounded by the love and care of his family during his final moments.
In accordance with Howard's wishes, no formal services are planned. His memory will be cherished privately by his loved ones.
Howard was born on June 18, 1936, in Big Flats, Wisconsin, to his parents, Darryl and Zella (Dawson) Travis. He spent his formative years in Big Flats and graduated from Adams-Friendship High School in 1954. Howard's sense of duty led him to serve his country in the Army for two years, a testament to his commitment to his nation.
Throughout his life, Howard held various occupations, including truck driver, employment at Badger Ordnance in Baraboo, pulp driver, and working in the fields picking beans for Del-Monte in Plover. However, his most cherished role was that of a bus driver for the Adams-Friendship Area School District, where he dedicated his time from 1971 until this past April. Over these years, Howard safely transported countless children to and from school and sporting events, accumulating over 1 million miles on the road.
On November 16, 1963, Howard united in marriage with Joyce Petruska in Trinity Congregational, Adams. Their love and partnership were a source of strength and happiness throughout their lives together.
Howard had a zest for life and found joy in hunting, family vacations out west, particularly to Yellowstone, and engaging in meaningful conversations with people. His warm personality and friendly demeanor endeared him to all who had the privilege of knowing him.
Howard is preceded in death by his loving parents, Darryl and Zella, his beloved wife, Joyce, and his brother, Gordon.
He is survived by his devoted daughters, Rhonda Travis and Tammy Travis, both of Hancock, WI, and his niece, April (Billie) Bounds of Nekoosa, WI. Howard was further survived by other relatives and many good friends. His legacy lives on through his family and the memories they shared.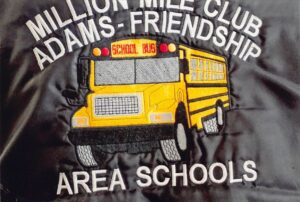 In Lieu of flowers, the family kindly requests that memorials be directed in Howard's memory to support his family during this time of loss.
Roseberry's Funeral Home is honored to assist the family during this difficult time. To express condolences or find further information, please visit www.roseberrys.com.