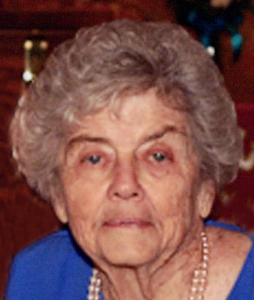 Jane Lewis Law Christensen, age 92, of Arkdale, formerly of Adams, passed away peacefully in her sleep on Monday, March 16, 2015.
Jane was born on March 16, 1923, in Biloxi, MS, the first child of Oswald James and Margaret (Lewis) Law.
She graduated from Ferry Hall High School in Winnetka, IL. During World War II, Jane lived with her mother, aunt, and grandmother in Manassas, VA. While working for the U.S. Navy in Washington D.C., she met the love of her life, Raymond Christensen, at an Armed Services dance. Jane and Ray were married on October 4, 1944 in Petaluma, CA, while Ray was on active duty in the Army. Jane and Ray moved to Adams in 1950. She graduated from Juneau County Teachers' College in New Lisbon and later received a degree in Education from UW Stevens Point. Jane was a Home Bound instructor for several A-F students, a substitute teacher, a Girl Scout leader, and an active member of the A-F PTA.
Jane was a member of the Eastern Star and served as Worthy Matron and Mother Advisor of the Rainbow Girls.
Jane was a loving and devoted wife, mother, grandmother and friend. Her greatest joy was spending time with her family. She was an accomplished seamstress and quilter. Jane enjoyed flower gardening, feeding the birds, reading, shopping, swimming, and fresh-water fishing.
Jane and Ray were blessed with 39 years of marriage and four children, all of whom still live in the Adams-Friendship area.
Ray died on June 11, 1983. Also preceding her in death were her parents, her sister Margaret, and Ray's parents, Hans and Kate Christensen.
As per Jane's wishes, no visitation will be held. A private burial service will be held at St. Stevens' Cemetery in New Lisbon.
Jane's family would like to thank Laura Larson for the excellent care and friendship shown to Jane for the past three years.
She is survived by daughter, Katherine (Art) Stormoen of Friendship; son, Bruce (Lois) Christensen, Adams; son, Dennis (Donna) Christensen of Adams; son, Lynn (Cindy) Christensen of Adams; grandson, Rod (Jodi) Stormoen of Friendship; grandson, Hans (Andrea) Christensen of Mauston, grandson, Robert (Miranda) Christensen of Adams; granddaughter, Mary (Neil O'Connell) Christensen of Waukesha; grandson, Andy (Erin) Christensen of Arkdale; granddaughter, Susie (Jeff) Bell of Mauston; granddaughter, April Christensen of Washington D.C.; granddaughter, Alexa Christensen of Montana; grandson, John Kosolcharoen of Los Angeles; grandson, Mike (Erin) Kosolcharoen of Madison; grandson, Ken Kotlowski, Jr. of Mooresville, NC; grandson, Scott (Tanya) Kotlowski of Friendship; 14 great-grandchildren and one on the way; one great-great-grandson.
Roseberry's Funeral Home is assisting the family.