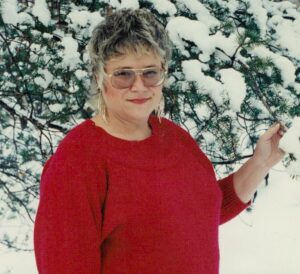 Jennifer L. Steele, age 67, of Hancock, Wisconsin passed away Tuesday, September 22, 2020, at the Marshfield Medical Center in Marshfield, Wisconsin.
A celebration of her life will be held at a later date.
Jennifer was born March 31, 1953, in Antigo, Wisconsin to Elmer and Avis (Rusch) Stengl. She graduated from High School in Antigo and Mid-State Technical college as a radiation technologist.
Jennifer married Gary T. Steele on October 31, 1984, in Friendship, WI. She worked at the hospital in Marshfield while attending college and at Moundview Memorial Hospital  & Clinics in Friendship for 30 years before retiring.
Jennifer was an incredibly talented lady. She enjoyed cooking, gardening, bowling, shooting pool, fishing, listening to music, crocheting, and taking care of her dogs.
Jennifer was preceded in death by her parents, and sister Ginger (E.L.) McDowell.
She is survived by her husband Gary, dog Moose, brother John (Nancy) Stengl; sisters Jean (Dan) Wheeler, and Audrey (Lisa) Stengl. Jennifer is further survived by nieces, nephews, relatives, and friends.