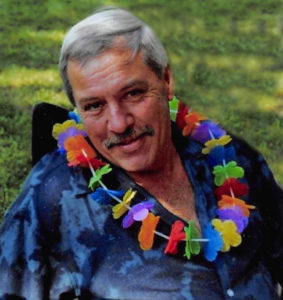 John J. Parr, age 64, of Friendship, Wisconsin passed away Tuesday, May 29, 2018, at St. Joseph's Hospital in Marshfield, Wisconsin.
A memorial gathering will be from 10:00 a.m. until 12:00 Noon on Saturday, June 16, 2018, at Roseberry's Funeral Home in Friendship.   Interment will be at the Easton Cemetery. Pastor Sam Downey will officiate.  A celebration of life will be at 1:30 p.m. at the Corner Bar in Friendship.
John was born October 20, 1953, in Baraboo, Wisconsin to Willard and Belva (Neff) Parr.
He graduated from Adams-Friendship High School in 1971.
John worked for Premo Construction for over 40 years.
He enjoyed hunting, shooting pool, socializing, and watching the Brewers & Packers. Johnny also looked forward to his morning coffee and game show with neighbors.  He always had his garage door open for anyone who wanted to come in with a sign that read, "Garage Sitters Welcome."
John was preceded in death by his parents, Willard & Belva Parr and brother-in-law, Marty Reichhoff.
Survivors:
Brother:  Bill (Dolly) Parr
Brother:  Ed Parr
Brother:  Jim (Elia) Parr
Sister:  JoAnn (David Dehmlow) Reichhoff
Niece:  Shannel Parr
Nephew:  Todd (Nicole) Parr
Niece:  Jennifer (Max) Parr-Murphy
Nephew:  Jason Reichhoff
Niece:  Melissa Parr
Niece:  Nikki (Hans) Thiel
Nephew:  Will (Cassie) Parr
Nephew:  Andy Parr
Niece:  Demi Parr
Half-Brother:  Chuck (Alice) Parr
Half-Sister:  Dee Davis
As Johnny would say, "I'm outta here."