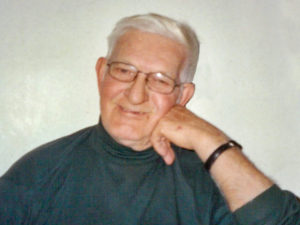 John J. Bakovka age 91, passed away peacefully Monday, June 10th at Villa Pines Living Center.  Visitation will be held Thursday, June 13th 10:00 am at Zion Lutheran Church in Big Flats.  Services will follow at 12:00, internment with Military honors will follow at the Niebull Cemetery in Big Flats.  John was born September 24, 1927, in Milwaukee, Wisconsin to Alex and Rose Bakovka.  John grew up in Big Flats and helped his mom and dad and brothers and sister on their farm and with their logging business.  John served in the Korean war and upon returning to Big Flats married Lula Mae Buck.  They raised two children Ellen and Greg.
John was employed his whole life as an auto mechanic and service manager for dealerships in Wisconsin Rapids.  He loved to hunt, fish, garden, cut wood, and tinker in his garage.  He served on the Big Flats town board and was Big Flats town chairman.  He also served in many positions in the local auto union until he retired from auto mechanics.  John always helped people in need, whether it was fixing a car, plowing a driveway or cutting a tree he was always there to help.
John was preceded in death by his mother and father, Alex and Rose Bakovka and his brother Steve Bakovka.  He is survived by his wife Lu Bakovka, daughter Ellen Cashman, son Gregory (Tammy) Bakovka, brother Joe Bakovka, sister Irene Rathermel, and a grandson John Bakovka.