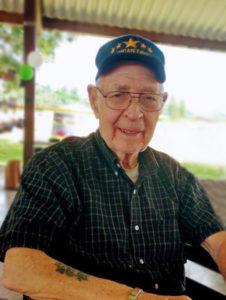 Joseph Anthony Famiglietti, of Adams, Wisconsin, passed away on September 28, 2018, due to complications from Alzheimer's and Parkinson's disease. He was born July 28, 1931, to Anthony and Ruth (McClosky) Famiglietti of Scranton, Pennsylvania.
Joseph was preceded in death by his parents, and most recently, his son Lee Familetti in July 2018.
He is survived by his wife of 67 years, Ruth (Battaglia); sister, MaryAnn (Ed) Oliva of Long Island, NY; children, Lynn (Robert) Rice of Adams; Scott (Dawn) Familetti of Adams; daughter-in-law, Gail Familetti of Marshfield, WI; seven grandchildren, Jessica (Chad) Zimmerman of Fuquay Varina, NC; Jason (Sarah) Familetti of Portage, WI; Adam and Hannah Rice of Adams; Nathan, Elizabeth and Brody Familetti of Adams; five great-grandchildren, Alexis and Mason Zimmerman of Fuquay Varina, NC; Ava and Joshua Scarberry of Adams, and Ashlyn Familetti of Portage.
Joe served 3 ½ years in the Army, including the Korean War from June 1950 to July 1951. He had several frightening experiences during this time, but was saved and protected through them all. He returned in August 1951 to Pennsylvania to marry his beloved. He began working for the Worldwide Church of God in Transportation Services assisting the building of meeting halls. The family moved to several locations during this time and ended up in Wisconsin Dells, WI in 1970. He worked for many well-known trucking companies including Dart, Shawano, Stafford and Supermarket Services. He found a career home at the Diesel Driving School in Sun Prairie, WI for many years. He was promoted to the Chief Driving Instructor and finished his career as a third party CDL Examiner for the State of Wisconsin. He took great pride in passing along his knowledge of trucking to many young men and women, but most of all, his two sons.
His deepest love, besides his family, was driving trucks. He was most comfortable behind a wheel. He and Ruth took their family on several trips across America seeing the beautiful countryside he fought so hard for. He took great pride in his country and could be seen frequently wearing a Bald Eagle belt buckle or American flag pin or hat.
Joe served his church with a smile and huge heart. He was ordained a Deacon and served faithfully in the Church of God since 1995. His church family was huge and he cherished them all. Joe rarely had a negative comment toward anyone. He could always be found sitting among friends telling stories. He will be greatly missed by many. We eagerly await the Resurrection when we will once again be laughing at his many jokes.
Memorial services will be held at 11:00 am, with military honors to follow, on Saturday, October 13, 2018, at Roseberry's Funeral Home in Friendship, WI. Pastor Dan Dowd will officiate. Visitation will be at 10:00 am until the time of service on Saturday at Roseberry's Funeral Home.