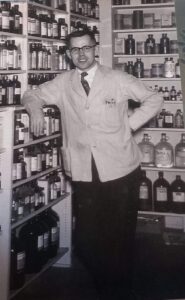 Joseph H. Jameson   Age 97     Madison WI/ Mesa AZ
Born in Adams, WI on September 22, 1924;  son of late George (Pete) Jameson and Margaret A. (Cunningham) Jameson. Died January 12, 2022, at Monroe Hospice with family present.
He served as a Naval Officer in the Pacific Theater in WWII aboard LST 903 including campaigns in Okinawa and Occupation of Japan.
Attended University of Eau Claire, Lawrence University, and graduated from University of Wisconsin School of Pharmacy in 1949. Owned and operated pharmacies for many years in Beloit and Monticello Wisconsin.
After semi-retiring, he worked as a part-time Pharmacist for Walgreens in both Arizona and Wisconsin. With his wife, Magdalen, he spent many winters in Arizona and summers in Madison and La Crosse, until settling year around in Arizona.
Survived by his wife, Magdalen (Sendelbach) Jameson; son Joseph (Deborah) Jameson II of Belleville Wi; daughter Sue Ann Rufener of New Glarus WI; step-son Russell William (Jeannette) Fried of Stoughton; grandchildren Andrew Jameson, Laura (Mike) Jameson Buss, Melissa (Jeff) Muck, Will and Emma Fried; and great-grandchildren Hannah and Morgan Jameson, and Owen and Rylee Buss.
Preceded in death by his parents, brother Gordon Jameson of De Pere WI, sister Mary Ochs of Adams WI, and infant sisters Betty and Jeanette.
Per Joe's wishes, there will be no service.
The family would like to thank the staff and volunteers of the Monroe Hospice Home for the exceptional care given Joe during his time there.
Memorials may be made to SSM Health Monroe Hospice Home, 3252 County Hwy N, Monroe, WI 53566.