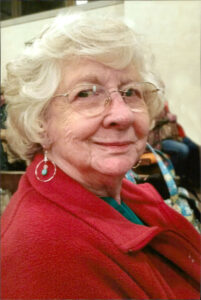 Lenore Catherine Matiasek passed away on June 22, 2020.  She was 93 years young.
Lenore was born on March 24, 1927, to Josephine Wagner and Charles Mehegan in East St. Louis, IL.  She was the 7th child born into a family of thirteen.  She is survived by one brother Charles (Marylou) of Schererville, IN.
In 1953 she married Leonard Matiasek.  They were happily married for 57 years until his passing in 2010.  Lenore was a loving mother to her 4 daughters Lorelei (Terry) Palmer, Linda (Theo Rodriguez) Charles, Loretta (Leroy) Briese, and Lorinda Leach.  She also loved being "grandma" to her 11 grandchildren, "GG" to 18 great-grandchildren, and finally great-great-grandma to 5.
Lenore often marveled at the many technological advances that spanned her 93 years, which brought about many changes to her life.  But along with these changes, she suffered many hardships as well.  However, through it all, she always remained positive, funny, and a generous soul.  In her younger days, she enjoyed bowling, fishing, crocheting, painting, and playing guitar.  She also liked listening to Opera, playing solitaire on her iPad, and visiting with family and friends.  Lenore truly loved her family and her life until the very end and was always grateful for her many blessings.
There will be no services at this time.  Our family's only wish is that you may please say a prayer in honor of our mother, Lenore.  We were truly blessed to have had her for this time in our lives.  There is a large void now in our hearts, she will be sorely missed.