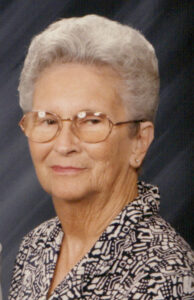 Lois M. VonMoos, age 93, of Arkdale, Wisconsin passed away Sunday, January 3, 2021, at her home.
Lois was born October 30, 1927, in Monroe Wisconsin to Paul and Lena (Holdener) Frenzel. She attended school in Monroe and later married Leo F. VonMoos on November 22, 1948.
Lois drove school bus, worked at Frito Lay, and retired from Parker Pen in Janesville.
Lois was preceded in death by her husband, Leo F. VonMoos; parents, Mr. & Mrs. Paul L. Frenzel; grandson, Tim Frauchiger; sisters, Alpha Coplien, Sylvia Moyer, Doris Hawthorn, Ruth Sitnek; brothers, Roy Rhyner, and Paul W. Frenzel.
Survivors include her daughter, Cynthia (Larry) Frauchiger of Arkdale, WI; son, Daniel Von Moss of Lead, S.D.; four grandchildren, and three great-grandchildren.