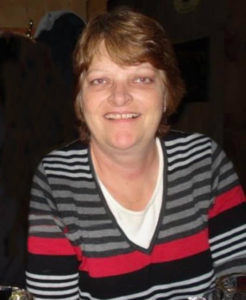 Lori J. McNew, age 61, of Adams, formerly of Milwaukee, Wisconsin passed away Sunday, February 10, 2019, at her home following a courageous battle with cancer.
A celebration of life will be 3:00 p.m. until 7:00 p.m. on Saturday, April 6, 2019, at the Wooden Nickel in Grand Marsh.
Lori was born June 24, 1957, in Milwaukee. She graduated from Juneau High School in Milwaukee with the class of 1975. Lori married Martin McNew on March 13, 1976, in Milwaukee. They moved to Adams County in 2001 and made many new friends. She enjoyed spending time with her grandchildren, camping, and sitting by the campfire with her son-in-law Derek.
Lori was preceded in death by her parents, Orvis & Garnet Brunsberg.
Survivors:
Husband: Martin McNew
Daughter: Jennifer (Derek) Rodriguez
Daughter: Michelle (Rafael) Lozano
Grandchildren: Kiley, Logan, Aiden, and Cora
Uncle & Aunt: Richard (Clarice) Kelto
Many cousins and friends