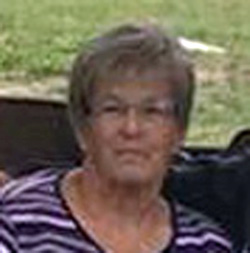 Nancy M. Godlewski, age 74, of Monroe Center, Wisconsin passed away peacefully with her family by her side on Saturday, December 1, 2018, at her home.
A celebration of her life will be held at a later date.
Nancy was born July 30, 1944, in Chicago, Illinois to John and Margret Kornash.
She graduated from Nazareth Academy in La Grange Park, Illinois in 1962.
Nancy married Kenneth Godlewski on July 11, 1964, in Hillside, Illinois.
She worked as a bookkeeper in real estate for over 20 years.
Nancy enjoyed traveling, bowling, and especially spending time with her family.
She was preceded in death by her parents, John & Margret Kornash.
Survivors:
Husband: Kenneth Godlewski
Son: Christopher Godlewski
Son: Peter Godlewski
Son: Thomas (Beth) Godlewski
Granddaughters: Alicein, Zoee, and Angelle Godlewski
Sisters: Susan Woltman & Judi Underwood