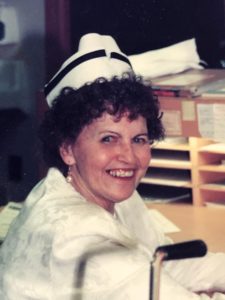 Patricia "Pat" Ann Steiner, age 93, of Maple Grove, Minnesota (formerly of Friendship, WI) passed away Friday, February, 22, 2019 at North Memorial Hospital Trauma Center in Robbinsdale Minnesota following complications from pneumonia.
Mass of Christian Burial will be 11:00 a.m. on Friday, March 8, 2019 at St. Joseph's Catholic Church.  Father Francis Dias will officiate.  Interment will be at Quincy Cemetery.  Visitation will be Thursday, March 7, from 5 to 8 p.m. at Roseberry's Funeral Home in Friendship, Wisconsin and on Friday at the Church from 10 a.m. until the time of Mass.
Pat was born April 21, 1925 in Milwaukee, Wisconsin to John and Henrietta Taylor.  After graduating from high school, she received a scholarship for nursing and became a Cadet Nurse during WWII.  Pat was the highest-ranking Cadet Nurse and is being recognized at the Woman's Memorial in Washington D.C. Cadet Nurse Corps Honor Roll 607637.  Following the war, Pat returned to Milwaukee where she worked at Woods VA Hospital and met and married her husband, John Milton Steiner.  They were married on June 9, 1951 in Milwaukee.  They then lived in Mauston, where Pat worked for Hess Memorial Hospital and worked on the family fox farm.  She and John later moved to Adams County in 1954, where the family opened the first resort on the east side Castle Rock Lake.  Pat worked at Adams County Memorial Hospital.  She and John raised five children, whom she was proud of and loved dearly.  Pat then accepted a Nursing Career at the Tomah VA Hospital and worked there until she was 70 years old.  Residency was at the resort until she moved to Mn.  She has lived with her daughter in Maple Grove, Minnesota for the past 12 years.
Pat lived a full life and had accomplished many achievements including: working in a defense plant her senior year during High School, Honorary Cadet Nurse during World War II, Committee Patient Education, trainer, revised care plans for patients, American Red Cross CPR saved lives while off duty, Certified Gerontological Nursing with a Published Paper July 1992 in that magazine, participating in a research trip to Scotland to Study Socialized Medicine in Psychiatric Nursing while at The VA., Vice President of the local NOVA organization, actively working in Congress to pass a bill allowing Cadet Nurses to apply their service time to their retirement, and working in healthcare for a total about 50 years.
Pat enjoyed painting, especially mountains, wilderness with streams, horses, and winter scenes; traveling, she loved to take her family on 2-week vacations just at start of fall school year; Pat loved sports, football, softball, basketball, cross country skiing, bowling, hunting, fishing and spending time with her family.
Pat was predeceased by her parents: John and Henrietta; husband, John; son, John E. Steiner, siblings:  Jack, Bill, and Kathleen.
Surviving Family include her children: David  (Pela) Steiner of  Friendship, WI; Michael (Karen) Steiner of Fort Myers, FL; Kathleen (Mark) Blomquist Maple Grove, MN; and Patrick Steiner of Maple Grove, MN; grandchildren: Lara, Megan, Colin, Emmalea, Sabrina, Michael Jnr, Christopher, Melissa, Jack, and Justin; great-grandchildren: Talan, Zander, Bodyn, Blace, Abigail, Ava, Madeline, Autumn, Hunter, Kaydon, Mason, and Kolten; brother, Tom and sister, MaryAnn.  Further survived by other relatives and friends.
Roseberry's Funeral Home is assisting the family.  Visit www.roseberrys.com for online condolence and complete obituary information.