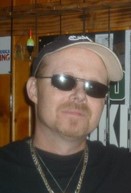 Patrick L. Schoonover, age 50, of Arkdale, Wisconsin passed away unexpectedly Thursday, September 24, 2020.
A celebration of Patrick's life will be held at a later date.
Patrick was born January 22, 1970, in Richland Center, Wisconsin to Leland and Judith (Wolf) Schoonover.  He received his GED in 1985 and worked a variety of jobs throughout his life.
Patrick enjoyed collecting rocks, crystals, antique swords, and other antiques. He loved fishing, hunting, and spending time with his family.
Patrick was preceded in death by both his maternal grandparents, John and Mary (Drinka) Wolf, and paternal grandparents, Jesse and Alma (McNamer) Schoonover.
Survivors: Nathan Schoonover (son) of Indianapolis, IN; Leland Schoonover (father) of Arkdale, WI, Judith Salandich (mother) of Deerfield, WI; Nadine (Schoonover) Norland (sister) of Oregon, WI; Brad Schoonover (brother) of Blue Springs, MO; Brian Schoonover (brother) of Richland Center, WI; Tony Salandich (brother) of Fennimore, WI, and many nieces, nephews, and cousins.