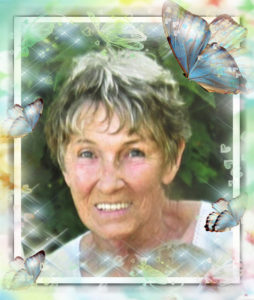 Paula Klein, 82, of Friendship, Wisconsin, died May 31, 2019, at home, with her husband and daughter by her side.  Graveside services will be held July 13th, 11:30 AM, at the Quincy Cemetery, with Pastor John Stake.  Please bring a favorite memory and a lawn chair, if you'd like to join the family for cake and coffee after the service.
Paula was born on August 29th, 1936, the fifth child in, what would be, a family of ten, to Willie and Ruby (Higgins) Fallos, in the family farmhouse, in Dellwood.   She attended school in Dellwood and Adams-Friendship. She married John Klein on August 16th, 1958 at St. Joseph's Catholic church. A year later, their daughter, Coral, was born.
She was proud of her half Norwegian, half Irish heritage and the fact that Gene Autry, the singing cowboy, was said to be a distant relative.   Music was a huge part of her life.  She enjoyed playing the piano and the Gibson guitar her husband, John, gave her as a wedding present, sixty-one years ago. She recently passed that guitar, with love, to her grandson, Drew, whom she was so proud of for carrying on the music in her family.
Paula attended St Joseph's Church, where she also taught CCD classes, in the 1960s. She worked at the Garment Factory, Badger Ordinance, Tiny's, Carlson's Keg, Villa Pines, and Lewis – Castle Rock Container, among others, as well as working side by side with husband, John, on the family farm.  When she 'retired', she went to work at OK Corral with her granddaughter, Nicole, because of her love for horses and for her granddaughter, who also loved horses, but was too young to drive herself to work. Later she worked for many seasons at Swiss Colony with her daughter and briefly at Land's End.
Paula loved gardening and traveling. Beautiful flowers and trips with family and friends were very special to her.  She was a fun, kind, caring, generous lady to family, friends, and strangers.
Paula was preceded in death by her dear son- in- law, Larry Smith; parents, Willie & Ruby Fallos; sisters, Isy Williams George, Anne Rundle, and Gloria Bahl; brothers Bill, Mike (Carl) and Claude Fallos; brothers- in- law, Allan Eineichner, Richard Cekan, Gene Bahl, Harold Williams and Paul George. She was also preceded in death by her Father and mother- in- law, John & Lillian Klein; in-laws, Augie Klein, Larry (Vivian) Klein, Dolly (Elmer, Howard) Holtz McLain, Sylvia (Joe) Goslawski, Anne & Chester Gorlen, and Ed Turek.
Paula is survived by her husband, John Klein of Friendship, WI; daughter, Coral Smith of Friendship, WI; grandson, Drew (Theresa) Smith of Reedsburg, WI; granddaughter, Nicole (Jeff) Doskocil of Spring Green, WI; great-grandchildren, Taryn Smith, Kyle Smith, Blake Smith and Keller Smith; sisters, Carol Eineichner, Dorothy Koivisto and Norma Cekan; sisters- in- law, Arlene Fallos and Sally Heile. She is further survived by in-laws, Lol Turek, Carole (John) Havel, and Betty Klein.
The family wishes to thank Hospice Touch of Tomah, especially Bonnie & Jenny, for their kind care and Roseberry's Funeral Home, Tammy & Jake, for assisting the family. Special thanks to Beccy & Pat Pare, Ethan & Morgan, Norm & Diane Turek, Drew & Theresa, and Nicole & Jeff, for all their loving help.
~~~ May the road rise up to meet you.  May the wind always be at your back.
May the sun shine warm upon your face, and rains fall soft upon your fields.
And until we meet again, may God hold you in the palm of His hand.  ~~~~~