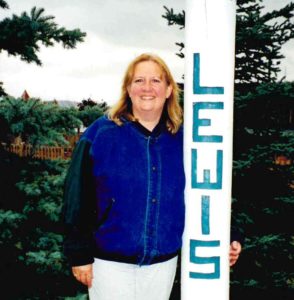 Ramona Ellen (Jensen) Lewis, age 62, passed away from an extremely quick diagnosis of cancer on September 30, 2019.
Mona was born December 22, 1956, the 6th of 8 children to Rudy and Charlene Jensen. She graduated from Adams-Friendship High School in 1975.
Randy (Harp) Lewis and Mona were married on December 13, 1975, and enjoyed almost 43 years of married life. This union was blessed with their daughter Connie. Their married life began in the Upper Peninsula of Michigan followed by a move to East Dundee, IL where they purchased their first home. The U.P. pulled them back again, where Mona pursued and received a Bachelor's Degree in Social Work from Northern Michigan University in 1999. They moved to Sharon, WI to be closer to their daughter and granddaughter.
Mona worked various jobs; Marquette General Hospital, a Social Worker at the Salvation Army and most recently a Sales Associate at Walmart. The light of Mona and Randy's lives is their granddaughter Sarah.
Mona touched so many lives with her kindness and giving ways. Our hope is that we can each pay a random act of kindness forward each and every day. One more request, whenever your family has a meal of pot roast, potatoes, and gravy and carrots, with blueberry pie for dessert, please set an extra plate at the table and remember Mona, as this was her all-time favorite meal!
The family would like to thank Mercy Hospital and Mercy Hospice for the incredible kindness and compassion shown to all family members.
Her father and daughter, Connie, welcomed her to heaven. Mona is survived by her loving husband and best friend, Harp; granddaughter, Sarah; son-in-law Chuck (Dee) Rozell; mother, Charlene Jensen; brothers, David (Kim), Tim, and Mike Jensen; sisters, Carol (Kevin) Babbitt, Becky (Larry) Oleson, Patty Sass, Kathy Carlson; mother-in-law Shirley McIntosh; brothers-in-law, Rick, Russ (Karen), Roger (Pam) Lewis; and numerous nieces and nephews.
A Memorial visitation will be held from 11-1 P.M. Saturday, October 5, 2019, at the Immanuel United Church of Christ, 111 Fremont St. Walworth WI. Casual attire is requested. Memorial services will follow at 1 P.M. with Pastor Roger Harris officiating.
In lieu of flowers, the family will choose a memorial in Mona's memory.
Private burial will take place at a later date in Mt. Auburn Cemetery, Harvard, IL.
Saunders & McFarlin Funeral Home is in care of arrangements.