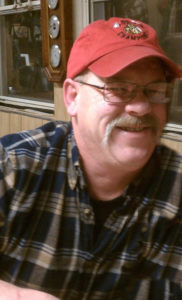 Randy J. Fierke, lost his battle to pancreatic cancer in the early morning of Saturday, February 16, 2019.
Randy passed away peacefully at his home in Friendship after his only daughter Rianna dozed off on the couch beside him and after he got one more kiss goodbye from the love of his life Robin, as stubborn as he was.
Randy was born in Justice, Illinois on July 16th, 1964 as the fifth child of six, only 11 months after his "twin" Tammy and after his father's failed vasectomy no less! So, he was determined from the very beginning to be a loved pain in the ass and to leave an impression. He attended Argo High School, but then went straight into the workforce as an electrician. Although, he was really a jack of all trades who took pride in what he fixed and constructed. Randy and family even built his house in Seneca, Illinois from the ground up.
Randy loved horse racing, the Blackhawks, hunting deer, fishing on the boat at Castle Rock Lake, music, and cooking, and man was he great at it! As he would say, he should have been a gay man. He loved getting a reaction out of people, whether it be scaring his daughter awake, putting his wet hands on your neck or in your ear, calling everyone by a name he created specifically for them, and by just generally being a jokester that made everyone laugh, reminding everyone to never take life too seriously. He was a cock that everyone couldn't help but love. Randy will be sorely missed by everybody who was fortunate enough to meet him, but especially by his love, Robin and her four boys; his daughter; his sisters and brothers; his nieces and nephews; his daughter-in-law; and his two grandkids Savannah & Aiden, or Lili Mae and Adrian, as he would call them.
He'll continue to make loved ones smile as his ashes will be placed in his "Bud Man", just like he always wanted, leaving this plane of existence with one last laugh.
Randy is off now to a place where he can always bet on horses, drink Budweiser, watch hockey and eat the best- tasting food.  He will be making his loved ones in heaven laugh for eternity, waiting for his loved ones down here to meet him up there. Cheers!
A celebration of his life will be on March 2nd, 2019 at 2 PM at Spot in the Woods, 1940 17th Court, Friendship, WI 53934