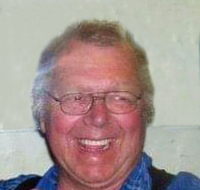 Richard E. Campbell, age 73, of Friendship, WI passed away on Thursday, November 5, 2020. He was born on May 22, 1947, in Portage, Wisconsin, the son of Eugene and Pearl (Fairfield) Campbell. He graduated from Adams-Friendship High School, class of 1966. He also received his degree from Mid-State Technical College for auto mechanics. Richard was a lifetime trucker and owned RJC Trucking in Friendship. He married "his Little wifey" Jeri (Hall, Sage) Campbell, on Sweetest Day, Oct. 16, 1999.
His passion was being behind the wheel of his big truck. He loved being home with family, but he also enjoyed getting out on the road, and being the first in line for a load, or to be unloaded. He also enjoyed watching football, stock-car races, tractor pulls, westerns, and The Simpsons.  He was always known to have a great sense of humor and razzing everyone he came in contact with. There was always laughter whenever and whomever he was around.
Richard is survived by "his little wifey" Jeri Campbell; children, Brian (Sue) Campbell, Peggy (Lance) Ferkey, Stacy (Charlie) Dessart, Rob (Heather) Sage, Nowenda (Troy) Olson; 15 grandchildren, 9 great-grandchildren; sister, Joni (Don) Wegner; brother, Dale (Laura) Campbell; brothers-in-law, Tom Evans, Harry Nawrot, many nieces and nephews, and also his first wife Lois Leach.
Richard was preceded in death by his parents, Eugene & Pearl Campbell; siblings, Linda Evans, Reva Nawrot, and brother Arnold Campbell.
He will be dearly missed by his family and friends. A celebration of life will be held at his home on Sunday, November 8, 2020. In lieu of flowers and monetary gifts, please make a donation to a Kidney Foundation or Heart Foundation of your choice. Richard was a kidney transplant survivor and recently learned of his heart troubles.
Our family would like to thank: "His girls", and staff at Gunderson Hospital, the doctors and staff at UW Madison, UW Madison Kidney Transplant Center, UW Portage, Meriter, and St. Mary's. All of your care and support has been greatly appreciated.