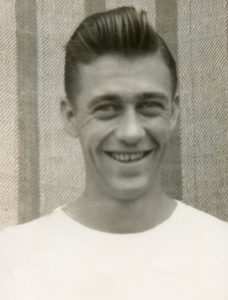 Robert Colon Jorgensen, age 96, of Fond du Lac, WI, rejoined his beloved wife Eunice in the arms of the Lord on December 1, 2017. Another of "the Greatest Generation" has left us.
On November 4, 1921, Bill and Mamie Jorgensen were blessed with the birth of a baby boy named Robert. Times were tough and as Robert grew up in the Wyeville/Shennington/Tomah, WI area he learned at an early age how to hunt for sustenance, how to help feed everyone, and how to work hard in order to bring money home to the family. Bob graduated from Tomah High School and shortly thereafter signed up for the US Army. After serving his country in the Army for 23 years he retired in 1964, attaining the final rank of Warrant Officer. He served in various US bases, Germany, Hawaii, the Philippines, Guam, Fiji Islands, Solomon Islands, New Guinea, and Occupied Japan. Bob was a charter member of the Veterans of Foreign Wars Post 6279 in Adams-Friendship, WI. Following his retirement from the armed forces, he managed a Zephyr gas station at "the six points" in Fond du Lac, followed by over 20 years at Wisconsin Power & Light Company.
Bob married the love of his life, Eunice Nelson, in 1947 after coming back from "the big war". Eunice preceded Bob in death in 2013. Bob and Eunice traveled the world, living in Germany, Hawaii, and multiple other locations as Bob served the country.
After retirement, Bob perfected a remarkable artistic ability, carving and painting incredibly lifelike birds and ducks out of rectangular blocks of basswood. His artistry will survive and be his legacy for decades. Bob was also an accomplished carpenter and furniture maker – he could make magic out of a hunk of wood!
Bob was an outdoorsman and hunter and a "tree hugger" before that term became vogue. By one estimate he planted over 50,000 trees in his lifetime – many of which still stand tall in Adams County pine plantations. Up through his 90's he could still be found out in the woods trimming and loving his trees.
Bob will be deeply missed by his 2 sons, Daniel (Barb) of Ripon and David (fiancé Cindy Lang) of Fond du Lac, and 4 grandchildren, Daniel, Nicole (fiancé Jerry Wheaton), Jennifer (fiancé Logan Jones) & Laura Jorgensen, and one great-grandchild (Cooper Johnson will miss his "Beepa"), his sisters Virginia Felton (Tomah) and Donna Simon (Wisconsin Rapids), nieces, nephews, cousins, as well as his loving friends and neighbors. Bob was blessed with the most wonderful and caring neighbors a person could ask for (Laura, Tom, Sheri, Dale, Alex, John, Don). The family wishes God's blessings on them all. In addition, the staff at St. Agnes Hospital 5-West and Transitional Care Unit provided loving and attentive care to Bob, and we are eternally grateful – they are doing God's work.
The family is being served by Roseberry's Funeral Home in Friendship, WI. Per Bob's wishes, cremation has taken place and a celebration of his life will take place on Wednesday, December 6, 2017, at 10:30 am at Trinity Lutheran Church in Arkdale, WI, with final resting place being the West Arkdale Cemetery. In lieu of memorials, the family asks that you plant a tree in Bob's name, this would be the greatest honor to his memory.