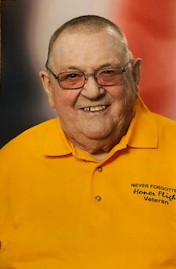 Robert S. Sparks, age 79, of Bancroft, Wisconsin passed away Saturday, January 23, 2021, at the Aspirus Wausau Hospital.
Memorial services will be held at a later date at the Bancroft Baptist Church in Bancroft with military honors to follow.
Robert was born August 16, 1941, in Stevens Point, Wisconsin to Robert and Edith (Rice) Sparks.
Robert served in the United States Navy from 1963 until he was honorably discharged in 1967.  During that time, he did two tours of duty in Vietnam and received several medals.
Following his time in the service, Robert was a conductor/brakeman for the Chicago and North Western Railroad for over 20 years.  When he was not away working for the railroad, he enjoyed farming, being with his family, helping others, deer hunting, and reading westerns. He especially loved taking the Badger Honor Flight with his fellow veterans.
Robert was a member of the VFW in Plainfield, American Legion in Bancroft, and the Bancroft Baptist Church.
Robert was preceded in death by his parents, Robert & Edith (Rice) Sparks; two sisters; a brother-in-law; his first wife Patricia (Hollingsworth) Sparks, three daughters, Christina, Doris & Dianna Sparks, and stepson-in-law, James Bovee.
Survivors include his wife of 42 years, Betty (Cheney) Sparks; son, Earl (Tracy) Sparks; stepdaughters, Theresa Bovee, Lisa (Todd) Prentice Schultz; 10 grandchildren, and 13 great-grandchildren.