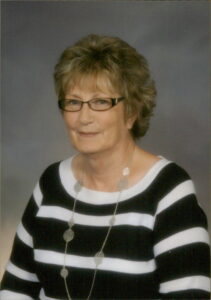 Sandra Catherine (Sutherland) Rogers, age 74, of Hancock, Wisconsin went to be with the Lord Tuesday, July 14, 2020, after a battle with cancer.
Memorial services will be 11:00 a.m. on Friday, July 24, 2020, at the Big Flats Community Church in Big Flats, Wisconsin.   Pastor Milt Duntley will officiate. Visitation will be 4:00 p.m. until 7:00 p.m. on Thursday, July 23, 2020, and again from 9:00 a.m. until the time of service on Friday at the church. Interment will be at the Colburn-Leola Cemetery at a later date.
Sandra was born on September 22, 1945, in Whitewater, Wisconsin. The daughter of Floyd and Margaret (Blumer) Sutherland.  She went to Milton Union High School, Milton, WI. She married Richard A. Rogers on August 11, 1962, in Milton, Wisconsin.  This marriage was blessed with three children, Rick, Kristine & Brenda.
They lived in Janesville, WI until May 1977 when the family moved to Hancock, WI.  While in Janesville she worked numerous jobs but one of her favorites was Bankers Life and Casualty where she worked for 10 years before moving north.
She worked selling real estate for a couple of years at Lake Arrowhead and then 10 years for Century 21. In 1991 she went to work at the fertilizer plant at Allied Co-op in Adams, WI.  She truly enjoyed her 21 years there at which time she retired.
Sandra was the town clerk for the Town of Colburn for 22 ½ years.  She was also a Sunday School teacher for numerous years.
She enjoyed doing crafts and spending time with her family and friends.
Sandra was preceded in death by her parents Floyd & Margaret Sutherland, son Rick, daughter Kristine, brothers Stanley, Dale & Kent, two nephews Thor & Samuel Sutherland, niece Jodi Sutherland, father and mother-in-law Elmer & Gladys Rogers, and brothers-in-law Eugene & Robert Rogers.
She is survived by her husband Richard, daughter Brenda (Jeff) Desotell, grandchildren Adrian (Jenna), Sean (Cristin) & Nicholas (Sharla) Rogers, Tashana (Chris) Lombardo, Shana Pantaleo, MaKayla & Alex Desotell, 10 great-grandchildren, brother Gary (Margaret) Sutherland, and sisters Amoret (Jim) Larsen & Kay (Bob) Ostram.