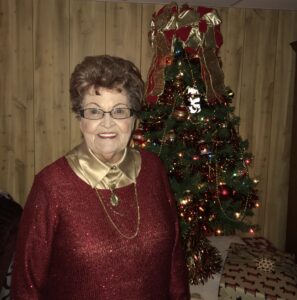 Shirley Collins passed away peacefully with her daughters by her side at her home in Adams, Wisconsin on Sunday, October 22nd, 2023, after a courageous battle with cancer.
Shirley was the daughter of Harvey and Florence (Dornfeld) Rettschlag and was born August 9th, 1935, in Hustisford, Wisconsin.  Growing up on a farm, she spent many summers in Chicago with her beloved Aunt Minnie before graduating from Horicon High School in 1953 as a proud cheerleader and baton twirler.  Shirley went on to marry Lewis F. Erdmann, and later, Ronald E. Collins.  She is survived by her six loving children: Code (Mary) Erdmann, Drue (Tami) Erdmann, Holly Sanchez, Rene Elkington, Tami Broome, and Misty (Sargon) Hermiz.  Shirley is also a grandmother, great grandmother, and great-great grandmother to many, known as "Grandma" to all she knew.
Shirley enjoyed many activities including crocheting, shopping, a game of cards or Yahtzee, and cheering on the Packers.  She loved watching the morning birds with a cup of coffee.  She looked forward to dinners with family and picking out the perfect outfit beforehand.  Many remember her for her fabulous wardrobe. She loved sharing laughs with her family and wasn't afraid to laugh at herself too.  Large family gatherings could always be found at her house for Christmas and Thanksgiving which she insisted on doing most of the cooking for, and always ended in a game of Euchre. Above all, she loved the Lord and honored Jesus as her Savior in all that she did.  Her greatest joy was Sunday at Adams Assembly of God, where she could worship and lean on God for her strength.
As Shirley trusted in the Lord's perfect plan for her life, please join us to celebrate her life and legacy, and honor God's faithfulness.  Funeral services will be at 3:00 PM on Saturday, October 28, 2023, at Roseberry's Funeral Home in Friendship with visitation at 1:00 PM, where Shirley's cherished Pastor Mark Stevens will be officiating. A dinner will follow at 4:30 PM at Adams Assembly of God, 2202 State Hwy 13, Adams, Wis. "Surely goodness and mercy shall follow me all the days of my life, and I shall dwell in the house of the LORD forever." (Psalm 23:6)