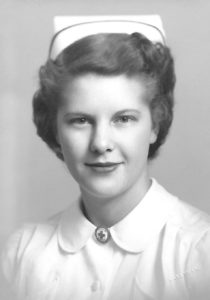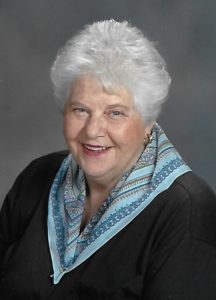 On Wednesday, September 25, 2019, Shirley Marguerite (Clark) Oakes, loving mother, grandmother, great grandmother, and sister, passed away at the age of 87 in New Lisbon, WI.
Shirley was born on November 21, 1931, in New Lisbon to Walter and Julia (Pearsall) Clark. She graduated from New Lisbon High School and attended St. Francis School of Nursing in La Crosse, WI, where she received her RN degree. Shirley married George Malcolm Oakes on May 2, 1953, and moved to Cloquet, MN where they raised their 4 children.
Shirley worked as a Registered Nurse in Cloquet for over 30 years. Shirley had many loves besides her family and nursing—traveling, playing cards, the out of doors, lively conversation. She enjoyed sewing, crafting, reading, and sharing stories.
Shirley was preceded in death by her parents, her husband George, her brother William Clark, and her in-laws George L. & Bessie Oakes, Winifred (Oakes) & Martin Serstad, Jeloyce Clark, and Judy Clark. She is survived by her four children, Steven, Curtiss (Karen), David (Amy), and Jolene (John Altrichter), 9 grandchildren, 8 great-grandchildren, brothers Carroll, Robert, and Keith Clark and sisters-in-law Judy and Edna Clark.
A celebration of Shirley's life will be held on Saturday, November 9, 2019, at 1:00 p.m. at Peace Presbyterian Church, 217 Oak St., Mauston, WI. Memorial contributions may be made in her name to the Shirley & George Oakes Family Fund—Cloquet Educational Foundation, 302 14th Street, Cloquet, MN, 55720 or www.cloquetedfoundation.org