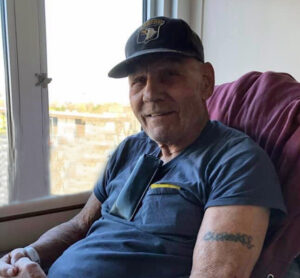 Utah D. Jones, age 84, of Oxford, Wisconsin passed away Tuesday, November 3, 2020, at Divine Savior Healthcare in Portage, Wisconsin.
Utah was born May 15, 1936, in Sioux City, Iowa to Theodore and Grace (Flege) Samsel. He was born William Cullen Samsel and after leaving the service changed his name to Utah Daniel Jones.
Utah was in the 101st Airborne from 1954 until 1956.  After that, he joined the rodeo and rode Broncs.  He also was a stunt man in Hollywood where he stayed with his PaPa and helped him.  He then became an over-the-road truck driver which he retired from.
Utah loved spending time with his family.  He didn't like the cold weather so would travel with friends who became family during the winter months.  He loved watching John Wayne movies and Christmas movies on Hallmark.
Utah was preceded in death by his son, Arlan (Cooter); brother, Sam; and sister, Carol.
Survivors include his Daughters, Teressa (Mike) Carlton of Oxford; Star (Russ) Nelson of Hurley; Tammy Meer of Reedsburg; grandchildren, Mike (Naomi) Carlton of Oxford; Bethany (Adam) Spaw of Friendship; Kristen Peckoff of Denver, CO; Autumn Peckoff of Rhinelander; Katrina (Victor) Afteni of Reedsburg; Dillon Meer of Reedsburg; Thomas Goodyear of Reedsburg; Jamie Goodyear of LaValle; 10 great-grandchildren; sister, Mary, and many nieces, nephews, other family & friends.