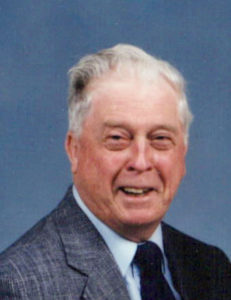 Wilbur O. Jensen, age 94, of Adams, Wisconsin died Sunday, April 7, 2019, at Villa Pines Living Center in Friendship, Wisconsin.
Memorial services will be 11:00 a.m. on Friday, April 12, 2019, at Roseberry's Funeral Home in Friendship. Pastor Terri Skildum will officiate. Interment will be at the East Arkdale Cemetery. Visitation will be 9:00 a.m. until the time of service on Friday at Roseberry's Funeral Home.
Wilbur was born August 26, 1924, in Arkdale, Wisconsin a son of Ottar and Doris Jensen. He was baptized and confirmed at Trinity Lutheran Church. He was an Adams County Resident all his life farming on the family farm in Arkdale until retiring in 1988 and moving to Adams.
Wilbur married Jeannette Kingsley Kobs on May 31, 1957, at Trinity Lutheran Church in Arkdale.
He was a member of Trinity Lutheran Church. He served on the Board of directors of Adams Co-Op for many years. After moving to Adams, he became a council member for the city of Adams.
Wilbur was preceded in death by his parents, Ottar & Doris Jensen; wife Jeannette, granddaughter, Denise Kobs; brother, Clifford (Verna) Jensen; sisters, Evelyn (Joe) Balija, Gladys (Chester) Harris, Ethel (Bernie) Bucek & Mildred (Oscar) Moe; three infant brothers, and brother-in-law Fritz Riese.
He is survived by his 3 sons, David (Marcella) Kobs, Dennis (Bonnie) Kobs, and Robert Jensen; six grandchildren, Christopher, Justin, Chad, Lisa, Madeline & Logan, and sister, Norma Riese. He is further survived by great-grandchildren, nieces, nephews, relatives, and friends.
In lieu of flowers, donations may be made to the Arkdale Trinity Lutheran Church.