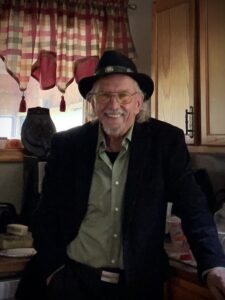 William Peter Kopke, Sr., age 71, of Post Lake and Friendship, Wisconsin, passed peacefully into eternal life and joined his heavenly Father on Wednesday, March 3, 2021, due to complications from endocarditis and heart failure. Those who knew him well say his heart failed because he had given it all away to those he loved so deeply.
Known by "Will, Bill, JaJa, Uncle Will, and Pops" throughout his life journey.  Will loved spending countless hours boating and fishing, riding his Harley, bow hunting, snow-birding to Citra, Florida, gardening, woodworking, was a brilliant jack of all trades, jokester, and teacher.  Jaja enjoyed building epic bonfires, shootin' stick, playing cards, cribbage, and soaking in the hot tub. Bill was a lifelong fan of the Chicago Bears, Cubs, and Blackhawks. He was undoubtedly everyone's "favorite uncle"! Pops was known for his hospitality, kind words, and compassionate nature. He lived his life to the fullest, always found something to keep him busy, graciously mentored countless individuals, and will be tremendously missed by all who knew him.
William was born December 4, 1949, in Chicago, Illinois to his parents Victor and Irene. He was well known first as The Sandwich Man and grocery store owner in Post Lake, Wisconsin, and then as a Master Pipefitter and inventor of the A.P.I. (Argon Presence Indicator) in Mundelein, Illinois. Will was a dedicated member of the Pipefitters Local Union 597 and a proud U.S. Army service member during Vietnam. Bill was most recently known as Professor Kopke while instructing for Nicolet College's Pipefitter Apprenticeship program.
Pops' commitment to his religion and to his family was everything to him. He was a Eucharistic minister of St. John's Catholic Church and was a strong supporter of the Faith in Action Ministry of Adams County, Wisconsin.
Bill was preceded in death by his father, mother, and older brother Roger. He is now reunited with his soul mate and wife of 45 years, Marguerite better known as "Maggie" (Hansen); and is survived by his loving wife Wanda Kosabucki. Continuing his legacy are his children Sandra, Vicki, and Jason (Goodman), William Jr, and Matthew Kopke; Carolyn, Christopher and Sherry Kosabucki; and his grandchildren Nathaniel, Zachary Goodman; Derek, Logan, Sadie Damen; Maggie, Chloe Kopke; Bradley Holimon; and Kody Kosabucki.  He is also survived by his older brothers Gerald and Victor, numerous nieces and nephews, as well as his fellow parishioners and friends throughout the Wisconsin, Illinois, and Florida communities.
A funeral service will take place starting at 11:00 am on Saturday, May 22, 2021, at St. John's Catholic Church (750 Appleton St, Pelican Lake, Wisconsin).  A celebration of life gathering and bonfire will follow. Contact an immediate family member for more details. Roseberry's Funeral Home is assisting the family. Visit www.roseberrys.com for online condolences and further information.
Thank you to all of the kind and compassionate staff and health care team at Gunderson Medical Center, LaCrosse, Wisconsin. May you forever remember the soft-spoken voice and peaceful nature of our Bill.
In his memory, we ask you to give your time to your neighbors and your brothers and sisters in all walks of life day to day, moment to moment.  Actively love, help others, and forgive graciously in his honor, for his honor.
In lieu of flowers, please consider a donation to one of the following programs:
Faith in Action of Adams County (FAAC)

636 S. Main St. Adams, WI 53910

Pipefitting Apprentice Scholarship through Nicolet College

goal of $2500 for one time scholarship recipient
donations c/o Vicki Goodman

St. John's Parish of Pelican Lake

110 Conro Street, Rhinelander, WI 54501

Mike Rowe Works Foundation at https://www.mikeroweworks.org/
Donations may also be mailed to Vicki Goodman-S95 W12995 Walter Hagen Dr. Muskego, WI 53150 or Venmo @Vicki_Goodman